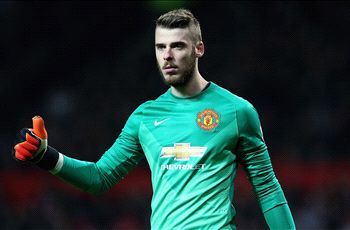 Manchester United are ready to ramp up contract talks with No.1 goalkeeper David De Gea.
Goal reported early in January that the club's hesitancy in concluding negotiations had opened the door for clubs around Europe, led by Real Madrid, to make their move.
United had initially approached the Spaniard last season but were distracted by their search for a new manager, while eventual incumbent Louis van Gaal was keen to assess his goalkeeping options in his first few months at the club.
Despite recent speculation about continued and serious interest from Madrid, the two parties – United and De Gea – had merely begun sounding each other out over desires and demands, and no concrete talks have taken place to date.
United are understandably keen to extend the 24-year-old's stay, particularly as his current agreement expires in 2016, and it is now understood that they are ready to hammer out a deal.
They are aware, however, that any new contract would likely have to include a buy-out clause, thought to be around £50 million (€67m), as well as a hefty wage hike.
De Gea is thought to be happy to remain at Old Trafford, although he is pleased that there are a number of alternative options on the table, thanks in large part to his fine form over the past 18 months.
His agent, Jorge Mendes, has spoken about United at various points in recent weeks since another of his clients, Radamel Falcao, was omitted from Van Gaal's squad to play Southampton on January 11.
Mendes, who also represents Jose Mourinho and had a great relationship with former United boss Sir Alex Ferguson, was unhappy with Falcao's treatment and has aimed some veiled barbs at Van Gaal, stirring speculation that both De Gea and Falcao could leave the club this summer.
And while the Portuguese said he expects De Gea to stay in Manchester, he did not elaborate further on whether that would entail signing a new contract or leaving on a free next summer.
Mendes has close ties with Real Madrid, the club most likely to snare De Gea, having conducted business with president Florentino Perez for a number of years, as well as representing Cristiano Ronaldo and James Rodriguez.
LIKE Us on Facebook
Follow Us on Twitter
Join our BBM Channel